Real professionals do not make compromises – least of all with temperature control. We developed the new LAUDA PRO thermostats for you.
Powerful bath thermostats for precise internal temperature control from -100 up to 250 °C. And particularly efficient circulation thermostats for dynamic heating and cooling of external applications from -45 up to 250 °C.
Professional laboratory technicians get what they really need with the new LAUDA PRO: no-compromise reliable temperature control in the research environment, application technology and production.
BASE
control unit.
Flexible and user-friendly.
Control your LAUDA PRO just by pushing a button and maintain an overview on the brilliant OLED displays.
Your advantages at a glance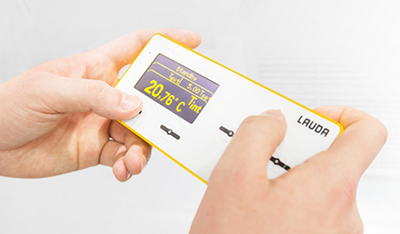 Bright high contrast OLED display
Convenient control using softkeys and cursor keys
Clear menu navigation
Programmer with 1 program and 20 segments
Removable
Control unit for the bath thermostats can rotate through 360°
Temperature display in °C or °F
Cable extension up to 50 meters
COMMAND
control unit.
Convenient multi-touch screen.
Even more convenience is offered by the COMMAND control unit, with its large color multi-touch screen and versatile functions.
Your advantages at a glance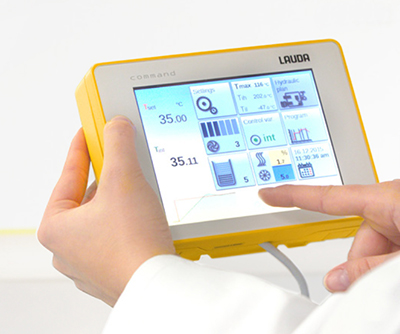 Large color touch screen (5.7")
Multi-touch operation using freely configurable tiles – can also be operated wearing gloves
Zoomable graphic view
Programmer with 100 programs each having 50 segments
Weekly timer and count-down function
Ramp function
Data logging, export to USB stick
Individual user rights for up to 20 users
Removable
Control unit for the bath thermostats can rotate through 360°
Temperature display in °C or °F
Cable extension up to 50 meters
Policies
SHIPPING
Shipping is Extra and will be charged separately. Shipping Quotes will be given upon request.
REPORTING DAMAGED ITEMS AND SHORTAGES
All shortages, defects and deficiencies must be reported within 7 days of receiving the shipment. Merlan Scientific cannot assume responsibility for shortages reported after this period.
On receiving goods, check your packing slip and the package contents carefully. Please report any damaged items immediately and keep all shipping materials for inspection. If you have any questions please call 1-800-387-2474 or write us at info@merlan.ca.
RETURNING GOODS
Before returning any item to Merlan Scientific, please call for a Return Authorization Number. Shipments received without authorization may be refused.
WARRANTY POLICY
Merlan Scientific warrants that each product will be free of defects in materials and workmanship for a period set forth in its published user manuals for its system products and for a period of one (1) year for its component products. The warranty commences on the date the product is shipped by Merlan Scientific. Merlan Scientifics' sole liability and responsibility under this warranty is to repair or replace any defective product, which is returned to it by the buyer, and which Merlan Scientific determines qualifies for repair or replacement under the terms of the applicable warranty. The product returned to Merlan Scientific for warranty service will be shipped to Merlan Scientific at the buyers expense and will be returned to buyer at Merlan Scientifics' expense. In no event shall Merlan Scientific be responsible under its warranty for any defect, which is caused by negligence, misuse or mistreatment of a product, or for any unit, which has been altered or modified in any way. The warranty of repaired and replacement products shall terminate with the original warranty of the product.
tab-whats-include